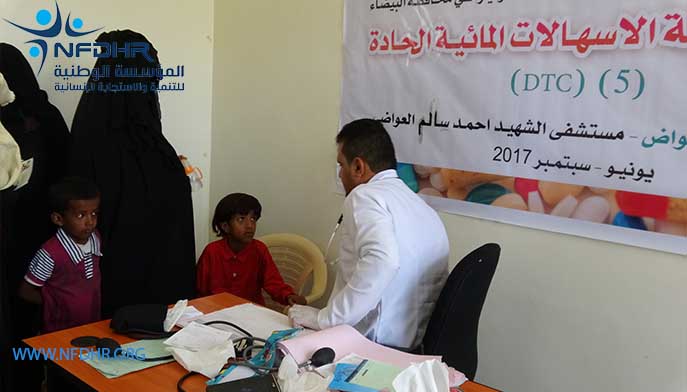 In early December, the National Development and Humanitarian Response Foundation (NFDHR) launched the Integrated Response Project for Health, Water and Environmental Sanitation for internally displaced persons and those most vulnerable to cholera in the Al-Bayda Governorate.
The project aims to reduce mortality from the cholera epidemic and to provide continuing health services in Al-Bayda to the most affected people.
NFDHR will provide support and medicines to 4 DTCs and 12 ORTCs in the districts of Rada'a, Ash Sharyah, Mukayras and Radman to treat AWC/Cholera. Additionally, they will rehabilitate 2 DTCs in Al-Bayda city, providing medicines, medical supplies, and support to provide primary care services for mothers and pregnant women.
The project activities also include implementation of 4 cleaning campaigns in Rada`a and Al Bayda cities and support of the Cleaning and Improvement Funds in Al-Bayda and Rada`a. The project will also provide the local water and sanitation institution in Rada'a city with operating requirements of fuel and equipment. Furthermore, NFDHR will conduct 960 personal hygiene awareness campaigns to inform people of the best hand-washing methods to prevent AWD/cholera and distribute chlorine tabs to the targeted area.
The Integrated Health, Water and Environmental Sanitation Response Project for IDPs and those most vulnerable to cholera is the fourth cholera project implemented by NFDHR in Al-Bayda Governorate.