I used to move freely, go to school and play with my friends, but now life has become more difficult for me. There are no chairs to sit on and we sit on the floor now." This is what Abdullah, 13 years old, said after he was injured by a landmine, which led to the amputation of his leg. Then he and his family were forced to flee in 2021 from Al Hodeida Governorate to escape the war.

Like any child in his age, Abdullah enrolled in school in Marib Governorate, where he and his family were displaced. However, due to the large and frequent waves of displacement in the governorate, most schools have not been able to accommodate the displaced students. Schools are not ready to receive students, and there is the lack of classrooms and educational facilities greatly affected the provision of education services.




The school where Abdullah goes is not much different, as it lacks school seats. He and many of his classmates have to sit on the bare ground for hours. Sitting on the bare ground hurts his spine due to the uncomfortable position of his feet in addition to distracting his concentration during the class. "I wish I could get a chair to save me the pain of sitting on the floor."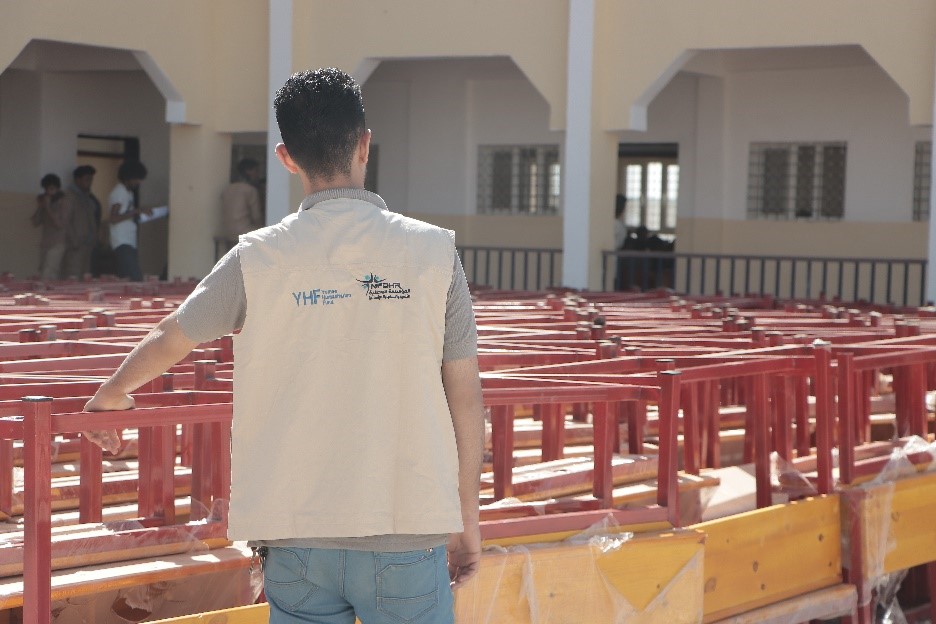 Through the Food and Education Gaps Emergency Response Project, NFDHR with funding from Yemen Humanitarian Fund has built and rehabilitated several classrooms and distributed seats and bags. Now, Abdullah's life and hundreds of other students have become easier, as school seats help them focus on their study.

Seeing his classroom maintained, Abdullah said: "I had difficulty doing anything, but now, the seat saved me effort and relived my fatigue".